Arcane: League of Legends - The Loop
Play Sound
Gears are purchasable in-game items that a hero can purchase. They provide bonus attributes with unique passive and abilities. Gear can be purchased anywhere from the map whilst the player is in an active match. Like most MOBA games, gears have tiers and higher tier gears are available from purchasing lower tier gears. Each heroes are limited to 6 gear inventory, with the exceptions of consumables. Players can customize their gear selection to assist in purchasing in-game. It is accessible from Build menu within Preparation menu.
Unique Passive
Most items possess Unique attributes or a Unique Passive effect, which cannot be stacked if the same items is equipped multiple times or a different items is equipped that has the same unique passive.
Non-Unique attributes will stack regardless, the same Unique attribute from different Items will still stack, and Unique Passive effects from different items will take effect independently, except for:
Jungle Gear: Since only one Jungle Gear can be equipped at a time, it is not possible to stack multiple Unique Passive effects from different Jungle Gears.
Roam Gear: Since only one Roam Gear can be equipped at a time, it's not possible to stack multiple Unique Passive effects from different Roam Gears.
Types of Gear
Attack Gear
Attack Gear are items that increases the physical attack of a hero. They are best bought with heroes that is under the category of Fighter, Assassin, Marksman, or heroes that have attack damage scaling, which shows an orange bracket on beside of the base damage of the ability.
Magic Gear
Magic Gear gives Magic Power, that increases the damage of skills that scale with Magic Power. It's usually bought with characters under the category of Mage and Support that relies on magical damaging abilities. Their specialization of effects includes providing additional effects to spells, increasing the skill's capabilities.
Defense Gear
Defense Gear is usually bought by Tanks, Fighters, or Supports that increases defensive stats like HP, Physical Defense, Magical Defense and more. They specialize in providing some counters to carries, for example, a combination of

Athena's Shield and

Radiant Armor can counter most damage coming like
 Gusion (from Assassin - Magic Damage) and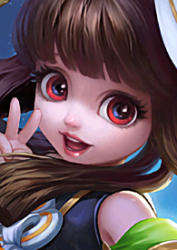 Chang'e (from Mage).
Movement Gear
Movement Gear is mainly used by all roles as they can provide different stats at a cheap price. They can provide attack, magical and defensive stats.
Jungling Gear
Jungling Gear is mainly for Jungling. It provides you additional 25% EXP and 25% Gold for killing jungle monsters and deal extra damage to monsters. Recommended if you want to gain level faster than anyone and fight the monsters instead of staying in lane.
Please note that:
Retribution is required for purchasing Jungle equipment items.
Purchasing Jungle gear reduces the EXP and Gold gain from minions by 50% in the first 5 minutes of the match.
Purchasing Jungle gear adds 30 Gold gained from kills or assist.
Roaming Gear
Roaming Gear is mainly for Roaming. It provides additional Gold and EXP to the player with the lowest Gold and EXP. It also grants extra Gold and EXP for assists. Recommended for Tanks and Supports since these heroes usually have the lowest Gold and EXP and a lot of assists.
Please note that:
You will not gain Gold and EXP for the first 9 minutes of the match if there are allies nearby when Minion or Creep dies.
Only one roam gear may be purchased at any given time.
List of Gears
Removed Gears
These items got removed due to their low usage from players. Some items have been reworked and have optimized icons but it doesn't count as removed.
Trivia
Attack Speed is capped at 3.0 attacks per second; any higher than this number, it will stay at 3.0 attacks per second.
Cooldown Reduction is capped at 40% and any higher than this number, it will stay at 40%.
The movement speed in Boots is capped at 50% movement speed and any higher than this number, it will stay at 50%.
Selling an equipment refunds 60% Gold.
Recent Changes
(Click [Expand] to see the list of recent changes of gears.)