Fire Emblem Warriors: Three Hopes - The Loop
Play Sound

Mobile Legends: Bang Bang, commonly known as ML or MLBB, is a mobile multiplayer online battle arena (MOBA) game developed and published by Moonton, a ByteDance subsidiary. Since its release in 2016, the game has grown in popularity worldwide, most notably in Southeast Asia,[2] and has since surpassed the 1 billion downloads milestone, with peak monthly players of 100 million. In 2021, Mobile Legends: Bang Bang achieved an all-time gross of US$1 billion, with 44 percent of its revenue coming from outside Asia, making it the top mobile game of its genre with the most global appeal.[3][4]
The game sets two teams of five against each other in real-time, with at least 10-second matchmaking and 10-minute matches. Players must fight over three lanes to take the enemy's tower and protect their own in a traditional battle arena game. Unlike traditional MOBAs, there is no hero leveling or pay to play aspect—winners and losers are determined by skill, ability, and strategy.[5]
Following success, Moonton has tapped into the esports scene with the creation of several regional tournaments dubbed as Mobile Legends: Bang Bang Professional League (MPL) in Southeast Asia, Latin America, and the Middle East and North Africa regions that serves as a qualifier for the Mobile Legends World Championships where a total of 15 countries, including Japan, Russia, Turkey, and the United States, have participated so far.[6] It was also among the 6 games chosen for the first medal event of esports competition at the 2019 Southeast Asian Games held in the Philippines.[7]
Originally titled Mobile Legends: 5v5 MOBA,[8] the game's first release in 2016 was received with criticism due to similarities with another MOBA game, League of Legends. Riot Games sued Moonton for copyright infringement in July 2017. However, the action was dismissed by the Central District Court of California in the United States due to forum non conveniens.[9] Moonton has since done multiple remodeling and patch updates for differentiation and game enhancements.
Gameplay
Mobile Legends: Bang Bang is a multiplayer online battle arena (MOBA) mobile game. The game is available for free and is only monetized through in-game purchases such as characters and skins. Each player controls a distinct "Hero" character with unique abilities and traits. The basic objective of heroes is defined by six roles: "Tank," "Marksman," "Assassin," "Fighter," "Mage," and "Support." These positions define each player's responsibilities for their respective teams. Players can also customize their heroes' builds, which include in-game equipment and emblems.[10]
Ranked and classic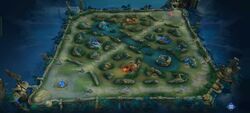 Two teams of five players go against each other in real-time. Players will be matched in correspondence with their current ranking. There are seven ranks in the game with "Warrior" being the lowest followed by "Elite", "Master", "Grandmaster", "Epic", "Legend", and the highest rank, "Mythic".[11] A player can only invite and form a team with other players of similar rank or players that are one rank higher or lower.
Taking down the opposing base is the main goal to achieve victory. There are three lanes in the game: The gold lane (top), exp lane (bottom), and the mid lane. Depending on what side of the map (blue or red) a player starts on, the gold and exp lanes will be switching places. Between each lane is the jungle. The jungle can be divided into four parts: two between the enemy's lanes and two between a player's team lanes. The jungle has different creeps and monsters that offer buffs, experience, and gold.
A player can't attack the enemy base directly without taking down opposing turrets in at least one lane first. Each lane has three turrets that shoot at heroes and deal a ton of damage. To attack them without taking damage, a player needs help from their team's "minions". Minions constantly spawn at the teams' bases and travel down along each lane. The team to successfully destroy all the turrets in one or all lanes will increase their chances of destroying the opposite team's base.[12]
In classic mode, the gameplay is similar. However, winning or losing a match won't affect a player's ranking. Players can also form a whole team regardless of their rank differences and freely choose any heroes along with weekly free ones and any trial card they possess.
Arcade and other modes
Arcade is an additional game mode in Mobile Legends: Bang Bang that can time-to-time be playable during special events, holidays, or occasions. The mode feature various strategy based sub-games.
Brawl is a game mode where players are given two random heroes in their inventory at the start of the game. This mode contains only one lane with two turrets defending the base of both teams. Items can only be bought inside the base and players that leave it cannot re-enter unless when respawning. A special variation called Shadow Brawl is released from time to time. The difference is players at the start of the game will choose from the same set of heroes. The hero with the most votes will be used by the entire team.[13]
As an auto battler game, Magic Chess is all about strategy. A player, represented by a "commander", faces 7 other players over the course of several rounds on a chess-like battlefield. Instead of fighting one's self, a player buys, equips, and lines up units that constitute MLBB Heroes. Apart from different types of "synergies", a player has to delegate the random items they gained while also taking care of the specific position of each hero on the battlefield. Additionally, a player can increase their gold income by economizing or going on winning/losing streaks. In the end, a player has to eliminate the other competing players by reducing the health points of their commander to zero. Depending on a player's placement, they will gain a certain amount of rank points after the game. Starting at "Warrior", players can rank up to "Mythic" similar to the core game's ranking system. In update patch note 1.4.60, Magic Chess was included as a permanent arcade game mode, after temporarily being added in January 2020.[14] This and Brawl are the only permanent arcade modes so far.
Various arcade games use the same battlefield as rank/classic mode but with twists. These modes include Mayhem,[15] where all heroes' abilities are enhanced and a player starts the game at level four, Deathbattle,[16] where players will play different heroes in a single match, and Mirror, where players of the same team will be using the same hero throughout the match based on majority voting.
Other game modes include an option to fight against AI heroes, custom 5v5 battles with other players, and hero training.
Trivia
Formerly titled Mobile Legends: 5v5 MOBA.
Gallery
Videos
See also
References