Fire Emblem Warriors: Three Hopes - The Loop
Play Sound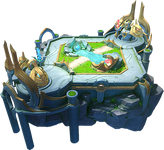 Ranked is a competitive queue for a game that is normally played. The rank system is used in matchmaking to ensure that all players played equally and fairly. Players earn or lose stars if they win or lose in this mode. Warrior, Elite, Master, Grandmaster, Epic, Legend, and Mythic (Mythical Glory) are the seven ranks in Mobile Legends: Bang Bang.
Ranked is unlocked once the player's account reaches level 8 and have at least 6 or more heroes. Ranked cannot be played once the player's credit score is below 90. Players can form a solo, duo, trio, or quintet team. Players can invite other players who are one rank higher or lower than them.
Draft Pick
Main article: Draft Pick
When a player reaches Epic IV or higher, Draft Pick becomes available for future matches. Unlike Blind Pick, Draft Pick allows both teams to see their heroes while being picked and bans a total of 6 heroes (3 bans for each team) for balancing purposes. Heroes who have already been selected or banned cannot be picked for the duration of the match.
Rank system
There are seven ranks in Mobile Legends: Bang Bang these are: Warrior, Elite, Master, Grandmaster, Epic, Legend, and Mythic.
Each ranks has divisions written in Roman numerals and a number of stars required to be promoted to the next division or rank. If a player exceeds the maximum number of stars in their current division or falls below zero stars, they can advance to the next division or back to the previous division. Completing all divisions from their current rank or being demoted from all divisions will result in a promotion to the next rank or a demotion to the previous rank. If a player loses all of their Mythic IV points, they will return to Legend I and lose two stars instead of one.[1]
In Mythic, the stars have been replaced with points to advance to the next division. Each win earn 5–20 (in normal Mythic) or 5–15 (in Mythical Glory) points and each loss subtracts 5–15 points depending on the rank of the enemies.[2][failed verification] When a player reaches 600 points, Mythic transforms into Mythical Glory, which theoretically holds an infinite number of points.
Ranks
Ranks
Divisions
Number of stars/points
Access to Draft Pick?
Minimum
Maximum

III
x0
x3
No
II
I

IV
III
II
I

IV
x0
x4
III
II
I

IV
III
II
I

IV
x0
x5
Yes
III
II
I

IV
III
II
I

IV
1 point
149 points
III
150 points
199 points
II
200 points
299 points
I
300 points
599 points

-
600 points
∞ points
Star-raising and star protection
There are numerous methods for increasing or preventing star loss, which leads to star-raising and star protections. Star-raising allow players to gain an extra star when a player reaches 100% star-raising points on the next win. Star protection allow players to avoid losing stars by reaching 100% star protection points or by using star protection cards; however, these effects are only activated if the player lose, star protection cards are activated first over star protection points.
Star-raising and star protection points are no longer available in Mythic, so they can no longer assist players in improving their ranks. However, star protection cards continue to work and prevent players from losing points instead of stars. When a player obtains an additional star while on the verge of becoming Mythic, the extra star is converted into bonus points once the Mythic placement grading is completed.[citation needed]
References