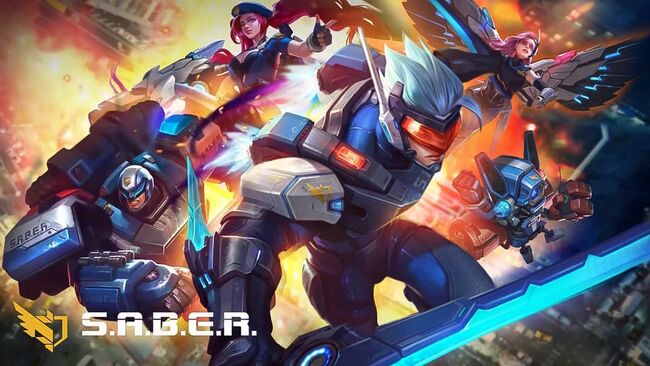 S.A.B.E.R. squad is a group of remarkable heroes with astonishing powers gathered by the late "Dr. Leo" to protect Zlatan, the city of technology. Ever since Dr. Leo passed, the S.A.B.E.R. is instructed by Dr. Wu, for the squad not having to know the real truth they now fight for false.
Members
Artwork
Gallery
Videos
Trivia
Their names are matched on the name of the squad.

Thus,  

Cyclops

's skin name changed from Blaster to Exploder. Precise reasons are unknown.

Later, Exploder was changed to Enforcer.

There is an unknown possibility of a buff if they are all lined up in a match.
There is a grammatic error for  

Johnson

's skin name Automata is the plural form of Automaton. The reasons for this are unknown.

Either way, it is the only skin in the squad that doesn't have the name ending with -r.

 

Layla

's Gun (now replaced to Cannon on revamped Project NEXT: Phase 1) differs from the other versions of it for it can transform.
 

Cyclops

is fully mechanical unlike his rest of the skins where they are biological. 
 

Saber

is the leaders of S.A.B.E.R. and the only male hero in the squad to have hair.
Only  

Layla

's S.A.B.E.R. skin has the same design as one of the characters in another Moonton-developed game: Mobile Battleground - Blitz.
 

Gusion

is an ex-member of S.A.B.E.R. Squad who was disqualified for being unacceptably self-centered in missions.
S.A.B.E.R. avatar border is rewarded to players who collect 3 skins of the squad.
An exclusive S.A.B.E.R. recall animation is rewarded to those who collect all the skins.

The recall animation only gets applied when the player is using one of the squad skin.

If there are 3 or more S.A.B.E.R. squad skins in a single team, there will be a special spawn effect in-game.
Both S.A.B.E.R. Squad and V.E.N.O.M. Squad are rivals and doesn't have Fighter members.

However, there is an expected S.A.B.E.R skin for  

Freya

.

In Patch 1.5.88, S.A.B.E.R. Squad has a new background, entrance animation, and new voice lines.