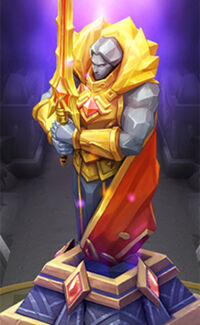 In addition, to add a varied collection of hero skins, Mobile Legends have included new skins - but not for heroes, for the allied turrets. You will see the Sacred Statue choice when choosing a hero. In the game, you can replace the turret skin by staying near an active turret. You will see a screen-prompt button with the shape of a turret, popping up on the left side of the screen. Clicking on it will immediately change the appearance of the turret to your currently equipped sacred statue.
Upon the introduction of Mastery Codes, there are also a couple of heroes receiving a Sacred Statue.
Sacred Statues grants +5 star-raising bonus points
Statue can only be used in Classic / Ranked / Custom(5v5) matches
Summon CD: 5 minutes.
The Sacred Statue can be obtained by the following:
Purchasable Sacred Statues
These Sacred Statue are purchasable by spending Twilight Coins

from Hero Mastery.
Return of the Legends
MSC Event
Starlight Member
Celestial Chest
Limited-time Event